Liewood dinnerware: safe, beautiful and practical for children
Liewood tableware is the most beautiful children's tableware for baby, toddler and preschooler! The Scandinavian brand is a star in designing unique tableware for children that can be used from the very first bites. They make sure that every meal is a celebration for the child and that it is really fun to eat. 
Besides the fact that the tableware of this brand looks very nice and also fits well in your interior, there are also other advantages why you want this tableware for your child. We list all characteristics and advantages of the Liewood crockery for you.
Liewood dinnerware from silicone
Did you know that Liewood dinnerware made of silicone is unbreakable! Super convenient when your toddler learns to eat on his own. Silicone tableware is light, feels soft and is flexible. It is therefore unbreakable when dropped on the floor. Silicone tableware is safe and free from harmful substances such as BPA. It is a perfect alternative to bamboo crockery! The advantages of silicone dinnerware in a row:
The material is soft to the touch yet sturdy
The children's tableware is unbreakable
The tableware is free of harmful substances and safe to use in combination with food
The silicone tableware is suitable for the dishwasher, oven and microwave
The tableware is suitable for the freezer up to -20 degrees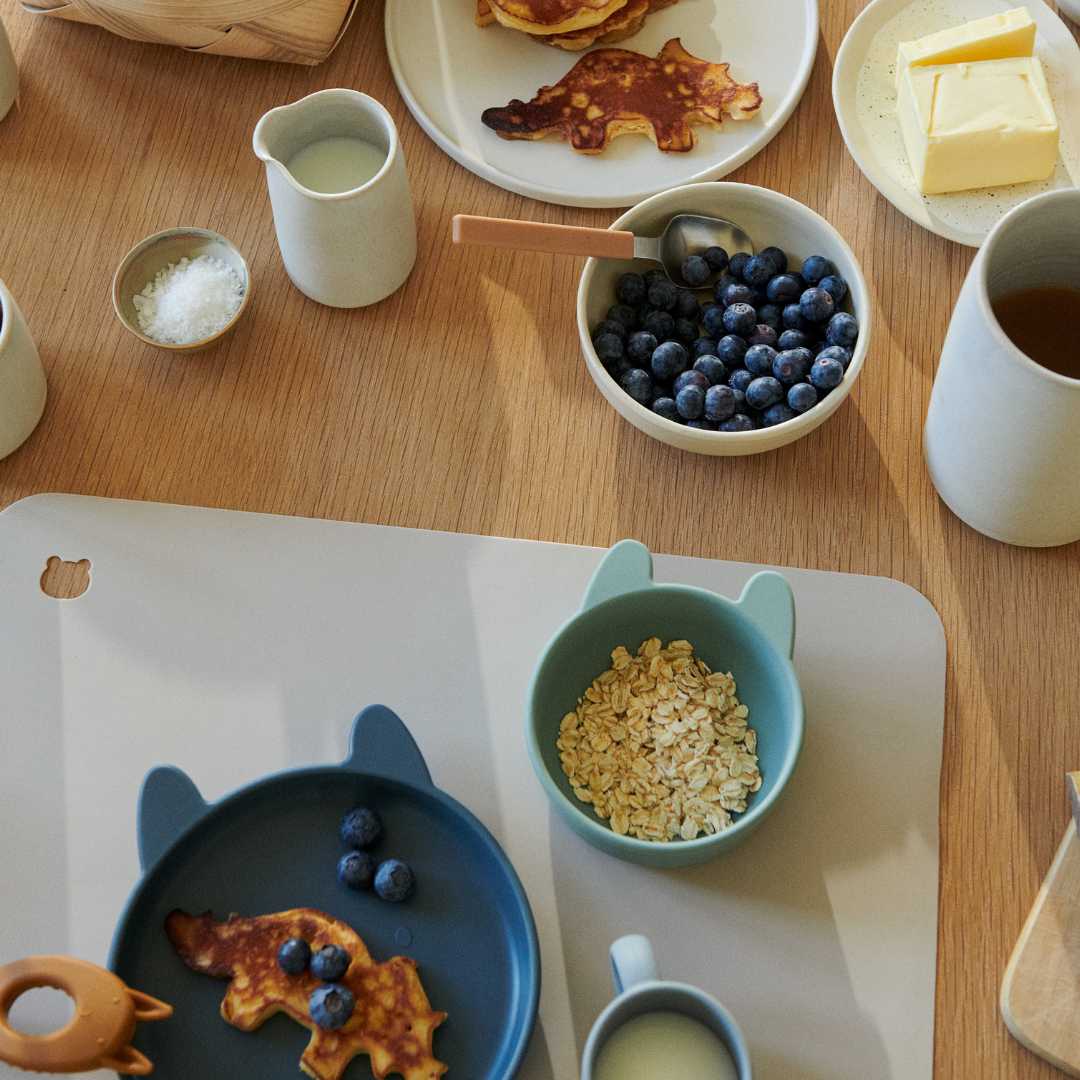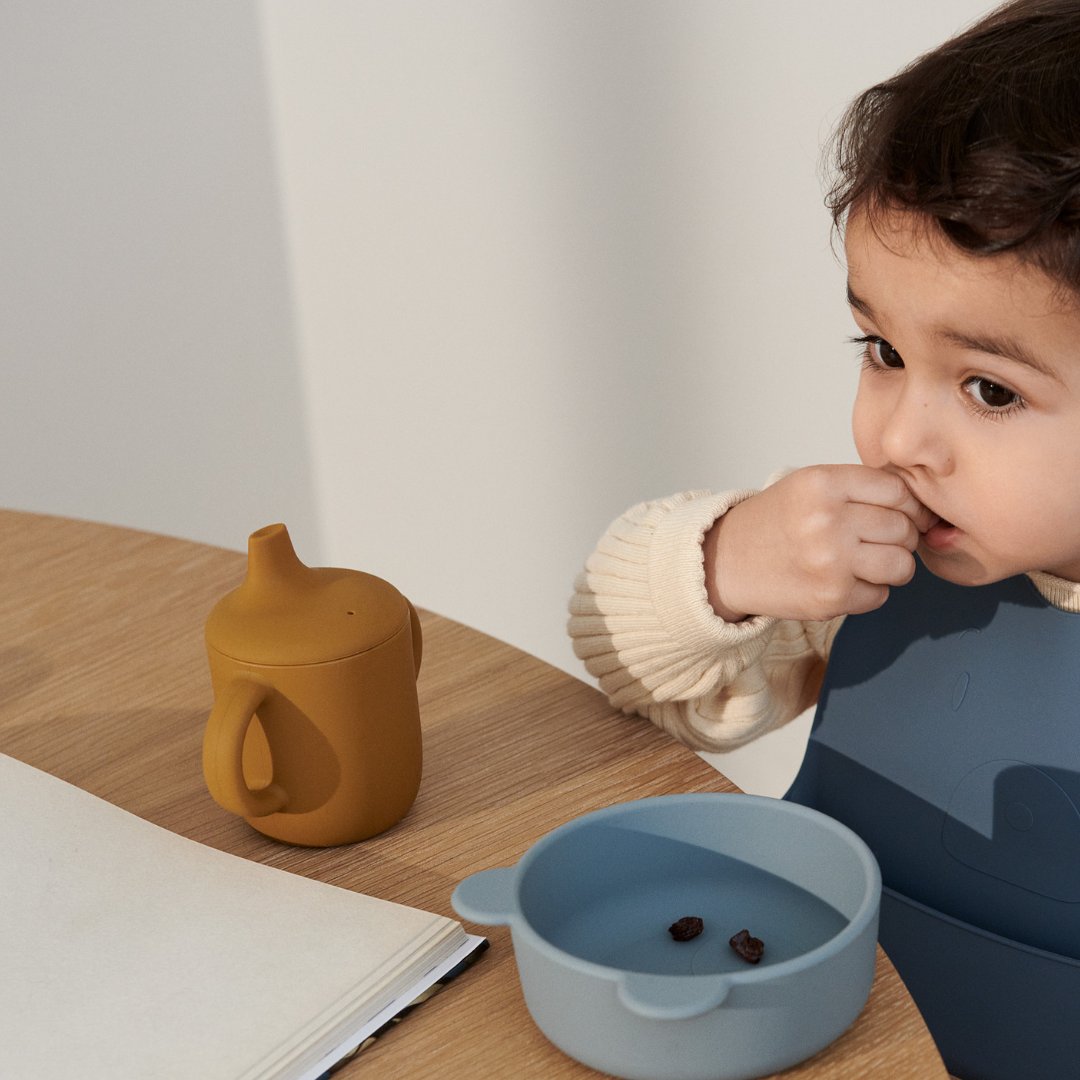 The tableware collection of this Scandinavian brand is very large. There are small baby bowls for first bites, dinnerware sets for toddlers, drinking cups with and without lids and the cutest snack cups. Liewood silicone dinnerware for babies in a row:
The fantastic Neil spout cups, which do not leak, perfect for learning to drink
Liva baby spoons, small spoons made of silicone, soft for baby's mouth
Connie bowls with compartments are handy for separating food
The Malene, small baby bowls with a raised rim, are ideal for the first snacks

PLA children's tableware by Liewood is trendy and safe
Besides silicone crockery, Liewood also makes crockery from PLA, a biodegradable plastic made from lactic acid from agricultural crops. The material is free of harmful substances and completely biodegradable. The difference with silicones is that PLA is a hard material:
The PLA material is a hard bio-plastic and is free from harmful substances.
The PLA dinnerware for children is dishwasher safe up to 65 degrees
The tableware can be put in the freezer up to -20 degrees
It is suitable for food up to 70 degrees
These are the cutest complete children's tableware sets of safe bio-plastic: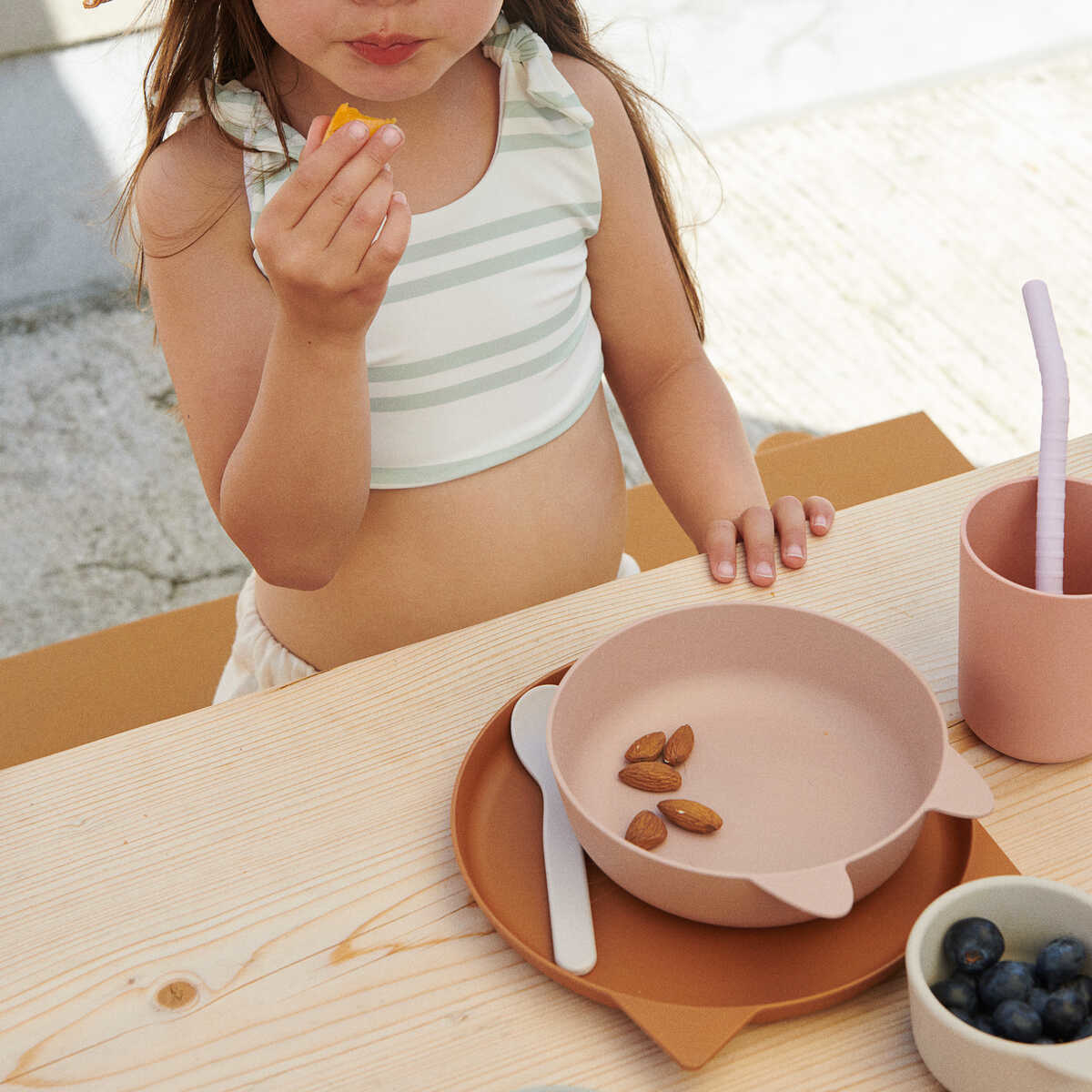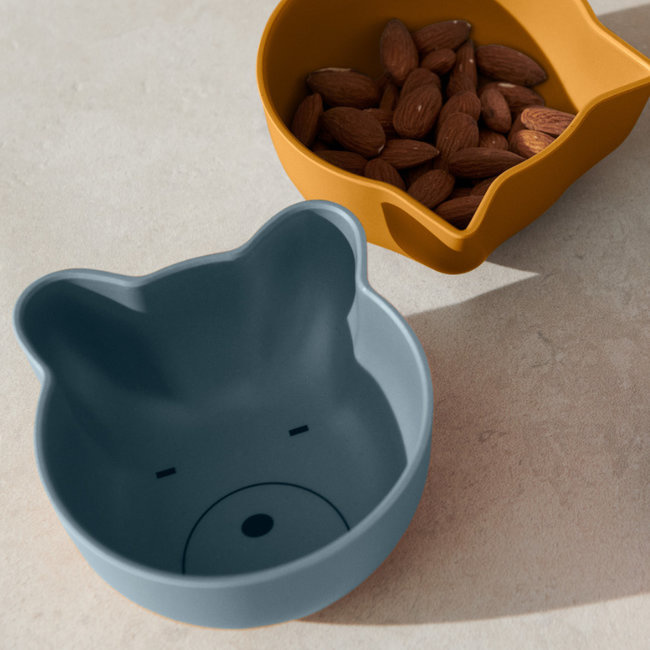 Liewood Joana is the complete children's crockery set for babies
Children's tableware set Paul is a complete set, ideal for toddlers and preschoolers
Here are the questions and answers
What types of Liewood children's tableware are there?
There is silicone children's crockery and there is children's crockery made from bio-plastic (PLA). Both materials are free from harmful substances and suitable for both baby and child.
How old is a children's tableware suitable for?
A children's tableware set can be used from 4-6 months when your child starts eating its first bites. The first months, you will feed your child with small bites. Choose the Malene bowls with Livia spoons.
Which dinner set for a baby?
One of the most common questions is which baby dinnerware is suitable. Choose a silicone dinner set or a baby dinner set made of PLA (bio-plastic). These are safe materials for food. Silicone has the advantage that it is unbreakable.
Ordering Liewood dinnerware online
You can easily order all Liewood tableware online! You can also use our free gift service, and we will wrap it for you. Besides this beautiful Scandinavian tableware, you can find at Rocket Toys, the most beautiful children's shop in the Netherlands, also beautiful children's tableware of other brands. If you find it difficult to make a choice from the various products, please send an e-mail to [email protected].